With the maturity of electric vehicles, autonomous driving, and car sharing technologies, the client wishes to plan for the long-term service layout in mobility realm, and transition from an automobile manufacturer to a service provider and continue to lead in the automotive industry. The core objective of the project is to complete the service planning and outlook for the next 5-10 years, improve the client's service portfolio, and build business & data analytic capabilities to support service development.
Project Overview
Type
Ecosystem Design, WeChat Mini Program
Date
June, 2018 - Jan, 2019, 6 months
Industry
Automotive, Retail
Roles
Lead Researcher, Solution Architect
Team Size
4-6 people
Outcomes
1. Conducted a comprehensive assessment of the client's existing services & products
2. Created ecosystem playbook & established experience principles to expand future services
3. Executed three POCs for concept validation and successfully delivered a WeChat mini program that met operation targets
Project Approach
This project span six months, we started with interviews & desktop research to understand the external & internal context of the problem scope. Then we defined ecosystem essentials for the client to expand its services and identified several entry points with high potentials. In phase 1.3, we tested design ideas & solutions with end customers, and derived at an execution strategy to build the ecosystem platform that will support the new initiatives. Finally in Phase 2, we further validated 3 POCs to different levels, to lay the groundwork for full-fledged delivery.
Phase 1.1 understanding external & internal context
In this phase, our goal was to analyze and learn from platform & ecosystem giants in China and globally. In addition, we wanted to understand our current service and data portfolio.
External Landscape
After researching into ecosystem giants in China & abroad, we created the ecosystem evolution roadmap, and highlighted each stage with a deep-dive into companies like Alibaba, Didi, Amazon & Apple.
Internal Services
We also studied the existing services of the client, looking closely at its core, adjacent & peripheral spheres. We concluded that there's great room for improvement in terms of deepening value exchanges, broadening target audience, and leveraging core competencies.
Phase 1.2 Ecosystem Essentials & Blueprint
In phase 1.2, we worked to develop a blueprint for a customer-centric ecosystem, define an initial list of services (both internal and external), and technology components to support these services.
Ecosystem Essentials
Ecosystem design is an inherently evolutionary and open ended process. From our case studies of successful ecosystem giants, we've synthesized a design process starting from identifying an entry point and then defining the ecosystem essentials including: Ecosystem Strategy, Ecosystem Partner Relationships, Service Ownership, Value Exchange, Service Offering, and Data & Infrastructure.
Possible lifestyle entry points
Based on understanding of the client's company culture and heritage, we defined three key ecosystem principles: Exploration, Fulfillment, and Safety & Security. Using the technique of image storming, we generated 8 aspirations around each principle. Next, we mixed & consolidated themes to potential entry points. Below is the full picture of ideas generated for ecosystem entry points. Three ideas were prioritized based on ecosystem opportunities and our advantage: Collection, Tour, and Care.
For each entry point, we would closely examine its business landscape (industry sectors, business models, existing services to leverage) , market & trends, existing competitors, advantages to entry, primary benefits & costs, and strategy positioning.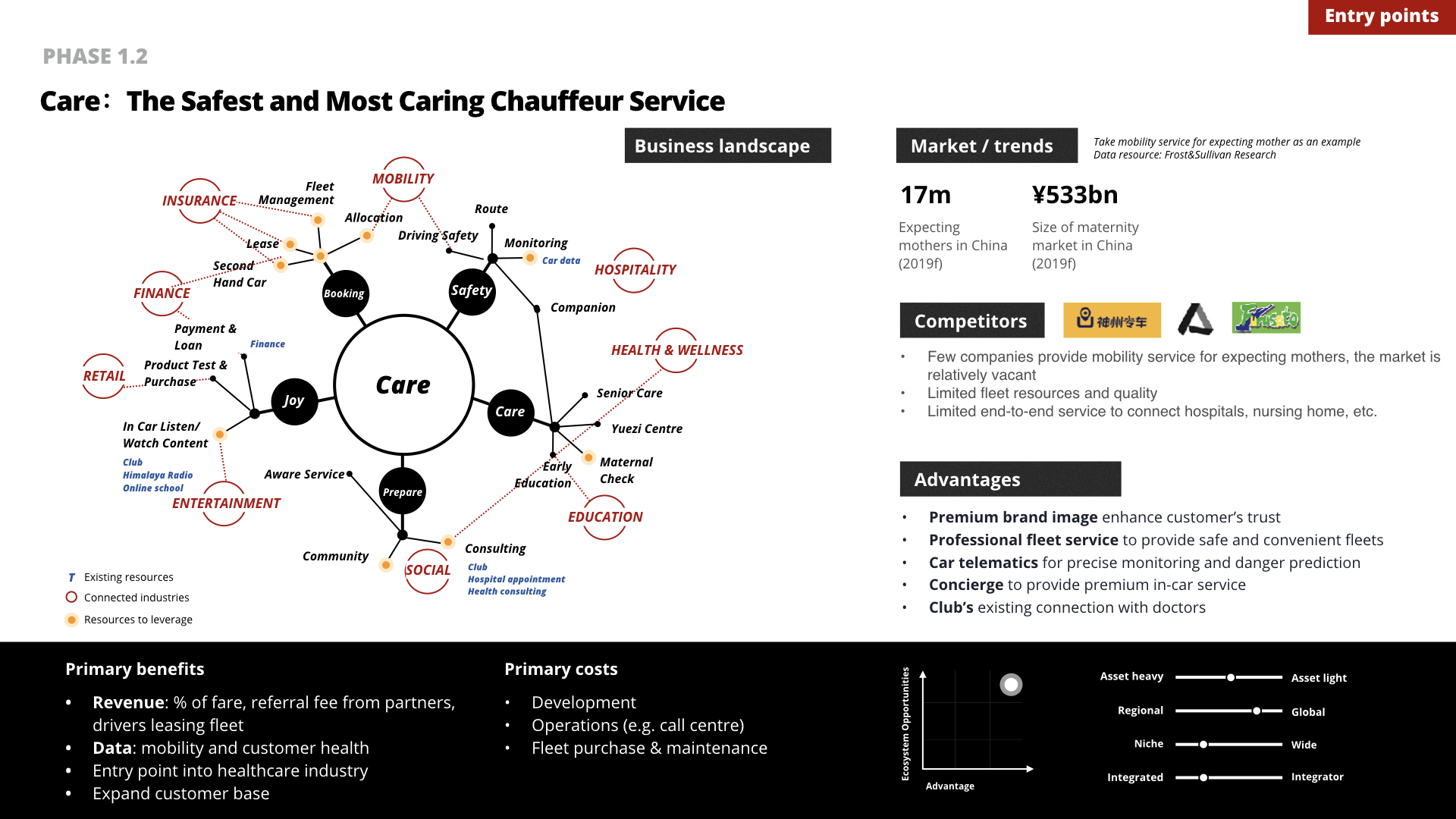 Phase 1.3 - External Validation
After defining three possible entry points, we need to validate them with end users before moving into the next step. Base on resources required for execution, we've reached the strategy below:
Validate Tour with external survey to gauge its business value.

Validate Collection with internal POC to test the client's operational strength.

Hand off Care to another department to better leverage existing resources.
This section will cover how we validated the Tour concept with external customers.
Survey structure
There are four parts of the survey, with their respective purposes, as illustrated below:
Survey response
We designed three questions to gauge customer interests: helpfulness of the app, willingness to recommend, and interests in participating in next round of user research. The results had been very positive, surpassing our initial targets. A breakdown of response results is shown below.
Phase 1.3 - Execution Strategy
In the final stage of Phase 1, we created a realistic approach to building the ecosystem and platform including data and infrastructure requirements, including a design for Collection POC to be executed in Phase 2.
*For confidentiality reasons, the strategy plan outlining data & infrastructure requirements is not shown here, only POC design is displayed.
POC Scope & Overview
The POC design & development is scheduled to be 2 months, to develop and launch an e-commerce WeChat Mini Program internally for employees that sells non-branded products, reusing as much of existing e-commerce website backend as possible.
Product & Visual Design
We materialized the Collection concept into a demo to test basic format & structure with internal users. Then we delved into three themes of visual exploration to reach a desired tone & feel. One of the final designs was in magazine style for immersive reading, another was in card style for easier navigation. Eventually we decided to go with the card style to encourage more exploration.
Personas & shopping boards
Based on our user research, we created 4 personas: "Impulsive " Ian Li, "Researcher" Robin Wang, "Rational" Rita Chen, and "Satisfaction" Sunny Liu. In addition, we put together "shopping boards" for each of the persona to visualize which merchandise they would likely to purchase. This step helped us with article & catalogue preparation for the delivery phase.
Operation plan
There are 4 primary goals for POC operation: attract interest, validate intention, test operational model, and inform future product design. In order to achieve these goals, we would track raw process & result data, as well as user specific data.
Phase 2 - POC Delivery & Results
In Phase 2, we spent 2 month in POC delivery & content preparation. The POC was live for 10 days, with content refreshment every other day. Eventually the test run generated over 66,000 unique page views with over 4,600 visitors.
Screen Recording of Working Software